A fine boot must be comfortable, durable, and have a unique appearance. In order to manufacture great boots, the finest quality leather is needed, along with mastering the Goodyear Welt construction technique, and skilled artisans for their impeccable finishing.
At Siete Leguas, we have known this for way more than half a century. That is why, for decades, Siete Leguas boots have been one of the most prestigious showcases of Leon's footwear industry.

Crafted by proud Mexican artisans.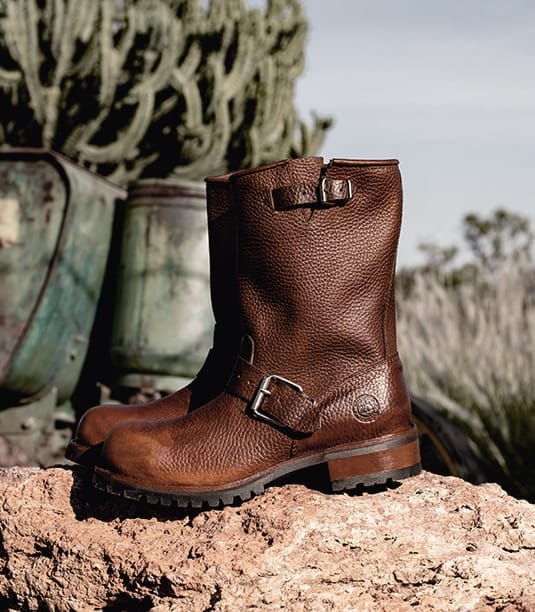 In 1955, Don Jorge managed to turn Siete Leguas into an iconic Mexican footwear brand, a legacy that his own children and grandchildren strive to uphold and transcend in this increasingly competitive and globalized world. To achieve that, we always strive to be at the forefront while maintaining our true essence, a mix of fashion and authenticity that never goes out of style.
The company has technologically evolved with the times, incorporating advancements and improvements that ensure the excellence of our products.
This is why Siete Leguas boots now feature lighter, longer-lasting, and even high-traction soles. Similarly, moisture-absorbing linings, more durable hardware, and rigorously quality-controlled selected leathers are now being used.
But all of the above would lose its meaning if the human aspect was not taken into consideration. Each pair of boots, whether Cowboy, Spanish, Roper, Haiker® or Charro Short Boot, requires over 100 steps in its crafting process. So, the work of the proud artisans who participate in this process is crucial, as they know that no detail is too small. For a boot to be world-class, it has to be a perfect blend of technology and craftsmanship. Indeed, we know all about that at Siete Leguas. And millions of our pairs of boots distributed throughout Mexico and the world over more than 60 years are the best evidence of that.
SIGN UP TO RECEIVE
OUR LATEST NEWS!